Careers
Help power Aotearoa! Electricity is essential to our lives and our economy. By joining our team, you can contribute to New Zealand's transition to renewable energy and help keep the lights on now and in the future.
We're hiring!
Join our team and help support Aotearoa's transition to renewable energy.
View vacancies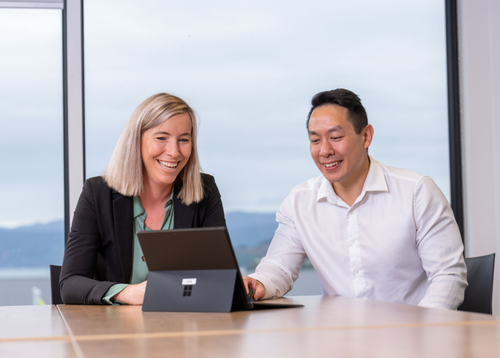 Why work for us?
Our work is diverse and often topical, addressing the big opportunities and challenges facing the electricity market.
We are an efficient and effective regulator. Our work contributes to electricity policy and regulatory reform that leads to better outcomes for all New Zealanders.
We engage with a diverse range of stakeholders and consumers across Aotearoa to make sure we understand key issues.
Our work is internationally recognised, with our input and advice sought by energy regulators from other countries.
Our independence enables us to work across government agencies and policy portfolios to give advice on difficult and often politically sensitive topics.
We are working on an efficient, sustainable path to support the government's objectives of achieving 100% renewable energy generation by 2035 and 50% renewable energy by 2035.
We like to lead by example and take active steps to measure and reduce our greenhouse gas emissions.
What we can offer you
We offer a friendly and intellectually stimulating workplace.
We are passionate about the work that we do and respect honesty, integrity and professional judgement.
We believe that differences and diverse ways of thinking and being are essential to our success.
We support staff to develop to their full potential - we offer training courses, mentoring and secondments.
We care for staff wellbeing, offering flexible working arrangements and a range of support - we offer a fitness subsidy, working from home equipment contribution, health check contribution, vision care, flu injections and an employee assistance programme.
We want our people to feel they are treated equally and valued for the work they do. We are committed to reducing our gender and ethnic pay gaps. See how we're tracking in our latest pay equity plan.
We are committed to becoming an equal opportunities employer who knows that equity, diversity and inclusion lead to a stronger organisation. We are a proud member of Diversity Works and have taken the Pride Pledge to support our rainbow inclusion and diversity journey.­
What our staff say
We have approximately 110 staff from a diverse range of disciplines – from lawyers, to economists, physicists, engineers, marketeers and accountants. Meet some of our team...