Solar generation now and in the future
There is currently around 270 MW of installed solar generation in New Zealand. This adds up to about the same capacity of a coal or gas fired Rankine generation unit.
Out of the 270 MW of solar, about 180 MW is in the North Island and is mostly made up of rooftop solar installations. There is about 200 MW of rooftop solar on residential buildings across New Zealand. The rest is commercial and industrial solar installations, where the business uses some or all of the solar generation on site. Any leftover generation is fed into the distribution network for other businesses and households to use.
All of the current solar installations are what we call "distributed generation" – generation that feeds into the local distribution network, instead of connecting directly to the national grid. This generation is usually used at or near where it is produced. Other types of distributed generation in New Zealand include small hydro generation schemes, geothermal, small wind farms, and generation produced from industrial processes.
In 2022, New Zealand had a record amount of distributed solar generation installed (68 MW). In the first few months of 2023, the rate of installation growth slowed somewhat.1 However, distributed solar installations are expected to increase, with Transpower forecasting 535 MW by 2030. This new distributed generation will not only include rooftop solar installations, but also small solar farms – panels installed in paddocks or elsewhere. One interesting existing example is of a floating solar farm installed at the Rosedale Wastewater Treatment Plant in Auckland, which is used to help run their pumping system.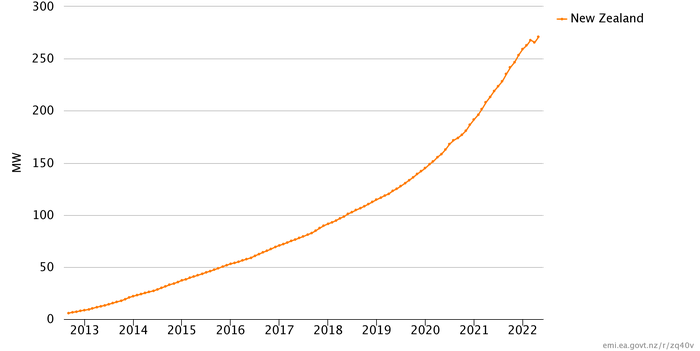 Distributed solar generation is expected to keep increasing, and New Zealand also now has some grid connected solar farm projects under construction, with more in the pipeline. The first large solar farm is expected to be completed this year. Lodestone reported in December that it had commenced groundwork on its Kaitaia solar farm, with the first panels to be installed in February. This solar farm is expected to have a capacity of 39 MW, which is about 18 times larger than New Zealand's current largest solar installation.2 Lodestone has also started construction on a 32 MW solar farm near Edgecumbe in the Bay of Plenty, which is expected to be operational in early 2024.
If current trends continue for distributed solar installations, of around 4 MW per month, the addition of these two large solar farms could see as much as 120 MW of new solar generation added in the next 12 months. This would increase New Zealand's solar capacity by nearly 50 percent.
Transpower's grid connection enquiries dashboard shows that the majority of enquiries made since July 2020 for connecting new generation to the electricity grid are for solar farms. While not all of these connection enquiries will result in generation developments, Concept Consulting found last year that around 80 percent of actively pursued generation projects that could potentially be completed by 2025 are solar projects. Since then, the cost of developing solar (and wind) projects has increased, as demand for these projects has increased worldwide. The supply of raw materials, such as copper and key minerals, has tightened. Analysts think that this may be only a temporary increase, but to confirm this the Electricity Authority in collaboration with Concept Consulting will ask developers again what, if any, impediments they face to invest in new generation.
Solar generation (and other sources of renewable electricity generation, such as wind and hydro) has zero emissions while it generates electricity, making it a very desirable generation option to help contribute to a low-emissions economy. Solar is also easy to install and cheap to run. However, intermittent renewable generation (ie, generators where the output cannot be guaranteed, such as solar and wind which rely on the weather) comes with challenges for the electricity system.
Our recent paper on New Zealand Wind and Solar Generation Scenarios highlighted one such challenge. It showed that even with higher levels of wind and solar generation throughout the country, New Zealand will still need other generation technologies to run when it's a calm day and the sun isn't shining. The paper modelled wind and solar generation at all weather stations throughout the country, and estimated that even with all of these generators installed, solar generation would be below 10 percent of installed capacity around 60 percent of the time. This issue with intermittency will be an ongoing challenge heading into New Zealand's transition to a more renewable power system.
1. Note that the slight decrease in March is due to a re-classification of installed distributed solar generation with batteries. These are now classified in some networks under "other".
2. The largest currently installed solar array is 2.1MW, at Kapuni in Taranaki.